on Mon Mar 29, 2010 7:35 am
Ok, do any of you know the game age of war?

It is a flash game were you buy units and they cross the battle field and attack the enemy base and enemy units.

and do any of you know the game Warfare 1945?

It is the same only instead of there only being 1 place for units, they can be deployed at the top middle or bottom of the map.

I was thinking that we make a start trek game like that, were you can play as the borg or human, this will take place on ships, land, and stations. I can not do this alone, and i will need your help, this will be a game were you fend off the borg in difforent envoronments, call in things like force fields (on stations/ships) and photon torpetoes (for ground combat, like an areal strike) Well, what do you think, it will need a new Engine, but it will be easy to make, it will be simpler that the BM engine anyway.

Rainbow Dash is best pony.
Nokiaman10

Commodore

Posts

: 418


Join date

: 2009-09-20


Location

: Australia

on Mon Mar 29, 2010 3:45 pm
have you got everything or mostly everything worked out first? you explained a little bit i am sure there is more to it..
on Mon Mar 29, 2010 4:39 pm
Well, all it really is.....it is just a game were you start with a set amount of credits to buy units with, then you select what unit you want to buy, then you put what lane it is in (1,2, or 3) then once it is inrange of the enemy unit it fires. There are special abbilities like every 5 min you can fire a photon torpeto from orbit, each map gives a difforent special abbility, there is cover to, some maps have no cover, some have alot of cover. Units automatically stop behind cover, only one unit per cover spot, a cover spot takes 75% of the damage away from the enemy attack. Units can attack from any space, but the dmg done varies from what lane you are in, if you are 1 lane away, it loees 25% dmg, 0 Lanes away, 5 lost and so on. It is fairly good and it will be fun, i will make a menu, anymore questions?

Rainbow Dash is best pony.
on Mon Mar 29, 2010 4:55 pm
Well since this will be a borg agenst human game, the menu is being assimilated.
The BM.Com thing will be a link to the home page of this site, or it will open up a small box that give a link to this site.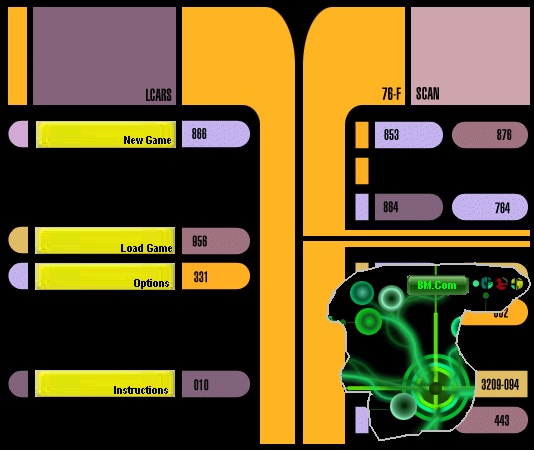 Rainbow Dash is best pony.
on Tue Mar 30, 2010 2:42 am
this looks like a good game! I am assuming it will be using the same aspects of Warfare 1945?
on Tue Mar 30, 2010 5:08 am
Yah, this wil be interesting, i will have units like "StarFleet Hand Phaser" "Starfleet Phaser Rifle" lol, no um it will be like all of the species in the federation "Vulcan Solder" "Starfleet Ensign" "Starfleet Lt." Um...along those lines, and for borg "Assimulated Klingon" "Assimilated Romulan" and so on.

Rainbow Dash is best pony.
Craig

Officer

Posts

: 40


Join date

: 2009-08-09

on Sat Apr 24, 2010 1:45 am
why does this sound like a version of Flashtrek Assault?.
on Sat Apr 24, 2010 8:07 am
1 you just necored, 2 it is nothing like flash trek assult at all, and some other 3rd thing......

Rainbow Dash is best pony.
on Sat Apr 24, 2010 9:33 pm
ooh i got a third thing, necroing is naughty, unless u admit u necroed and apoligise


"Though a million endings, you will only ever have one journey"

Permissions in this forum:
You
cannot
reply to topics in this forum